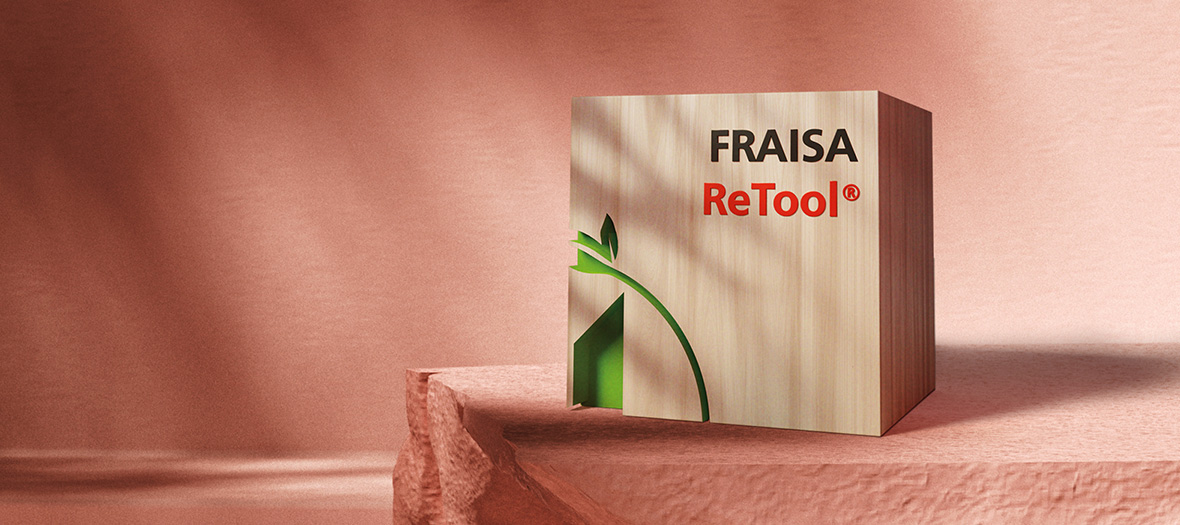 FRAISA ReTool®
CO2
MPETITIVE —
Industrial tool
reconditioning service with
performance guarantee

FRAISA performance
guarantee

Resource
conservation

Money-back
guarantee

Cost savings

Convenient processes

Transparent FRAISA
ReTool® prices
FRAISA ReTool®
100 % of the machining performance and service life of a new tool
Maximum substance preservation through adaptation of the reconditioning process to the tool condition
Personal advice from application engineers to optimize the engagement time
Wide service portfolio for many tools – available from diameters starting at 2 mm
We will gladly send you a FRAISA ReTool box free of charge for shipping your used tools. Just leave your contact details and we will take care of the rest:
Order FRAISA ReTool®-Box
FRAISA performance guarantee through industrial reconditioning
FRAISA ReTool® guarantees 100 % of the machining performance and service life of a new tool. Industrial reconditioning is already being considered during tool development. Our automated production processes ensure maximum performance stability.
Cost savings thanks to FRAISA performance guarantee
Thanks to the FRAISA performance guarantee, you benefit from the reliable 100 % performance of the reconditioned tools. Your machines can produce at an output of 100 % – with new tools as well as after the first, second or third reconditioning.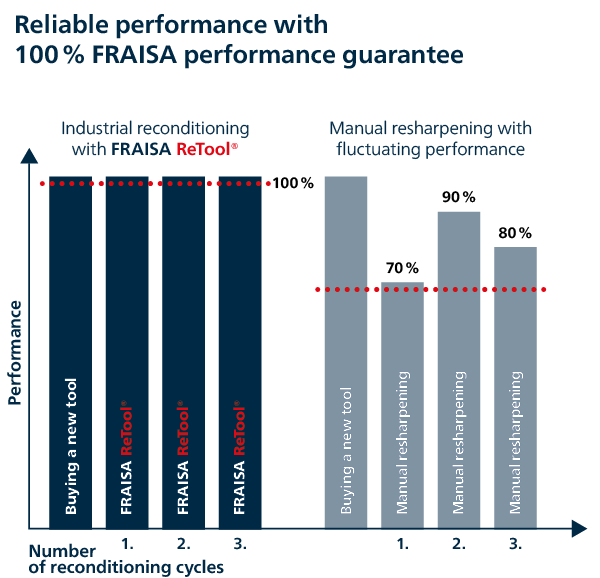 Environmental effect and resource conservation
For tool reconditioning, fewer resources are used than for the manufacture of a new tool. The carbon footprint of FRAISA shows a reduction in CO2 emissions of 50-80 % for reconditioned tools.
Wide service portfolio
From cylindrical universal tools to sophisticated finishing cutters and high-precision ball nose milling cutters – FRAISA ReTool® is available from diameters starting at 2 mm.
Cost savings with transparent prices
The tool reconditioning with FRAISA ReTool® is less expensive than buying a new tool – up to over 70 %. Each reconditioning has a transparent total price regardless of the tool condition. All prices can be found in the FRAISA webshop.
Advice from application engineers
The correct engagement time is decisive for the optimal use of FRAISA tools over the entire life cycle. We are happy to advise you on this in-person or through your preferred method of communication.
Cost savings through substance preservation
We adapt the reconditioning to the respective tool condition. The grinding programs are customized in order to preserve the substance of your tool as far as possible.
Money-back guarantee
Your satisfaction is guaranteed. Should we ever fail to meet your expectations, we will refund the cost or provide you with a replacement tool.
Convenient processes
We provide you with environmentally friendly recyclable packaging and organize logistics and transport. We do not require purchase orders, delivery notes and order papers.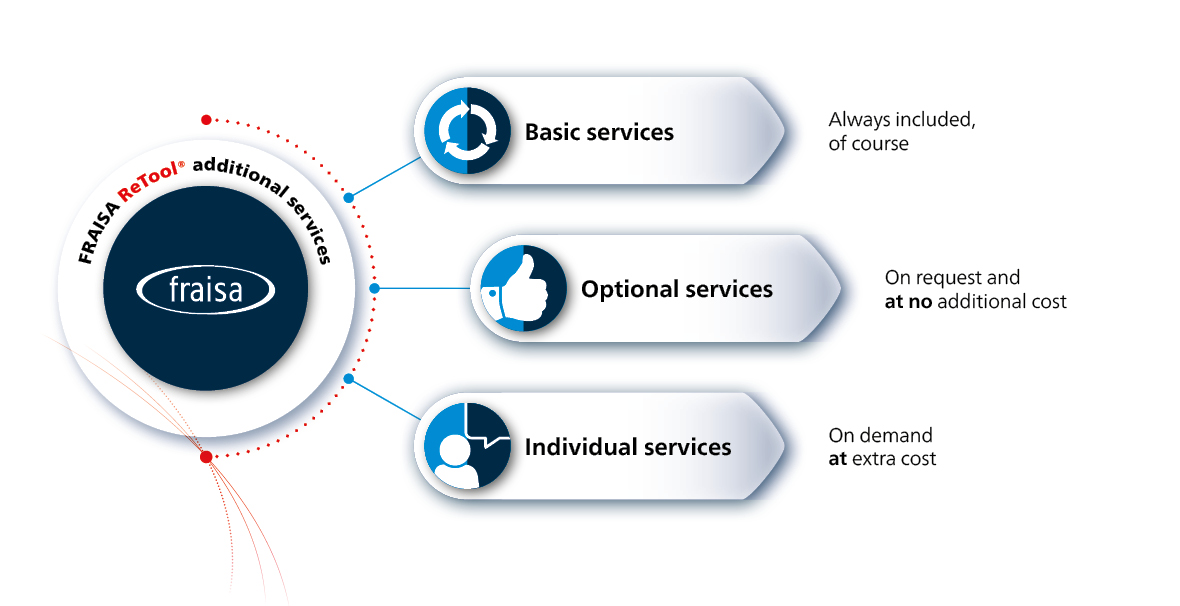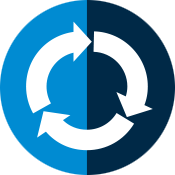 Basic services


Always included
High-precision reconditioning of solid carbide square, ball-end, and corner radius cutters with adherence to the radius tolerances of the new tool
Performance guarantee for all FRAISA high performance milling tools and carbide drills
Repeatability: Through the use of state-of-theart CNC grinding and measuring machines, we achieve identical geometries and surface qualities
Labels and barcodes for FRAISA ToolCare® customers
Consideration of individual customer requirements through the FRAISA ReTool® Specification (RTS)
Detailed information for tools that can no longer be reprocessed
FRAISA Full-Service Logistics: Fast, safe and cost-effective handling in reusable boxes and individual packaging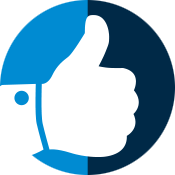 Optional services


On request and without additional cost
Grinding of milling tools to desired diameter (grinding steps)
Consideration of desired minimum cutting edge lengths of milling tools and carbide drills
Consideration of desired neck lengths (l3) for milling tools
Marking by means of one notch per preparation at the end of the shaft
Labels and barcodes with your defined article numbers
Labels with specified tool-specific information
Recycling of tools that can no longer be reprocessed by FRAISA ReTool

Blue

Evaluation of your tools for process optimization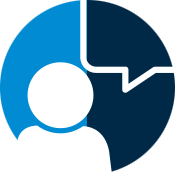 Individual services


On request with additional cost
Laser marking on the tool shank according to individual customer specifications
Grinding "Weldon" clamping surface on the shaft
Tool measurement with package marking (label)
Measurement reports for reconditioned tools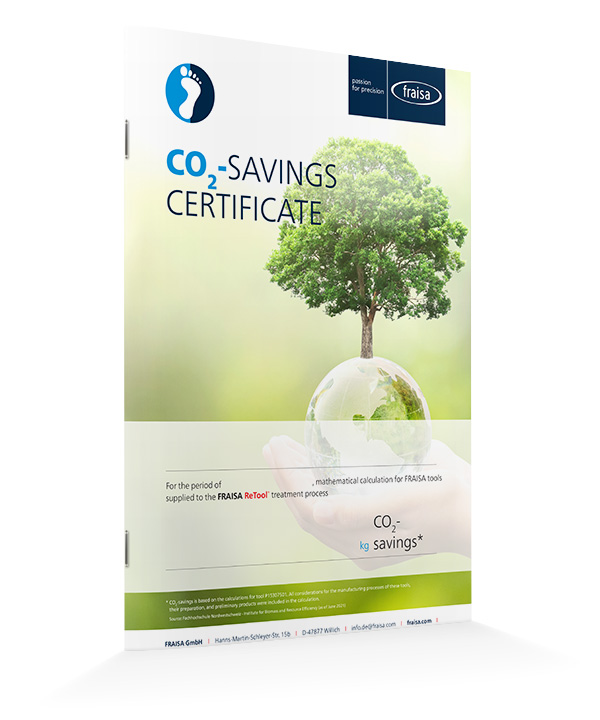 You are already a FRAISA ReTool® customer?
Request your individual CO2 saver certificate now!
To the contact form
Our FRAISA ReTool®Services