Highly productive 3D milling technology with
SpheroX milling cutters
The new generation of SpheroX milling cutters opens up some impressive new prospects: Where classic HSC machining reaches its limits, new performance horizons can be opened up with HDC machining processes. The SpheroX has been designed for HDC processes and impresses with its high stock removal rates, which can significantly increase productivity compared to conventional milling cutters.
The new SpheroX milling cutters have been developed specifically for high-performance roughing and finishing of hard and high-hard steels such as HSS. The tools provide excellent results in the machining of deep-drawn, injection, and die-cast molds, but also in the forming of solid stock.
The range of materials they can be used for includes steels in the hardness range from 50 to 70 HRC. The spherical radius, with a tight tolerance of +/–0.005 mm, is the basis for the dimensional accuracy of the new SpheroX milling cutters.
Thanks to the four cutting edges, high feed rates can be achieved. Penetration operations with a penetration angle of up to 5° are also no problem for these new tools thanks to their special edge geometry. The cutting edge length and the flute geometry facilitate HDC machining with high axial infeeds at very high feed rates. This means that even deep cavities can be machined extremely efficiently.
The new DURO-SI coating reduces tool wear and guarantees long-term dimensional accuracy of the workpiece. This results in a large increase in productivity. The new SpheroX generation features universal utilizability, high productivity and long tool life.
The advantages
High productivity thanks to higher axial infeed and very high feed rates.
Improved component quality thank to the highprecision ball with a tolerance of just +/–0.005 mm. The shank is ground to an h4 tolerance.
Low tool costs thanks to improved wear resistance and high surface finish qualities, which significantly shorten subsequent polishing processes.
Universal application range thanks to improved penetration capabilities and the tools' excellent suitability for HSC and HDC strategies.
---
---
High-performance tools for machining hardened steels
A key quality feature of the new SpheroX ball nose end milling tool is the DURO-SI coating specially developed for machining hardened steels. In combination with cutting edge conditioning, this significantly increases the tool's performance capabilities. High feed rates with simultaneous high infeeds are no problem thanks to the four cutting edges. These four cutting edges, in combination with the variable helix, also ensure incomparably smooth running compared to double-edged tools.
Higher chip removal rate
The number of cutting edges on SpheroX milling cutters has been doubled compared to conventional ball nose end cutters – enabling the feed rate to be increased by more than 50%. The four cutting edges ensure shorter cutting interruptions, smoother movement of the tool and better surface finish qualities for the workpieces.
Reduced tool costs
The DURO-SI coating has been specially developed for machining hard and high-hard materials. In addition to outstanding hardness, it features an incomparably high resistance to oxidation. This results in brilliant wear resistance in high-hard materials, which extends the service life of the tool and significantly reduces the associated tool costs. Compared to tools with conventional coatings, the SpheroX cutters can therefore be used at considerably higher temperatures, which means better cutting results and productivity. The droplet-free cutting face features reduced friction, which in turn promotes rapid chip removal from the flute.
An expanded field of application for the new generation of SpheroX milling cutters: Due to the large cutting edge length and the variable helix, the tools also master penetration and the modern HDC machining strategy perfectly. This can be used to create flat, relief-like shapes as well as deep outer and inner cavities quickly and cost-effectively.
Due to their specially designed edge geometry, the milling cutters are able to perform penetration operations with penetration angles of up to 5° without any problems. And it goes without saying that the cutters are also highly capable of implementing conventional machining strategies.
Improved component quality
When finishing, too, the four cutting edges, which go all the way to the center, achieve better results in terms of surface finish quality. The optimized edge geometry allows much higher feed rates when prefinishing than conventional double-edged tools do. Precise dimensional accuracy of the workpiece is ensured by the high precision of the radius.
---
Machining strategy

for components made of hard to high-hard steels
---
Flexible
application options

when machining complex, hardened molded components
---
FRAISA performance guarantee through industrial reconditioning
FRAISA ReTool® guarantees 100 % of the machining performance and service life of a new tool. Industrial reconditioning is already being considered during tool development. Our automated production processes ensure maximum performance stability.
Cost savings thanks to FRAISA performance guarantee
Thanks to the FRAISA performance guarantee, you benefit from the reliable 100 % performance of the reconditioned tools. Your machines can produce at an output of 100 % – with new tools as well as after the first, second or third reconditioning.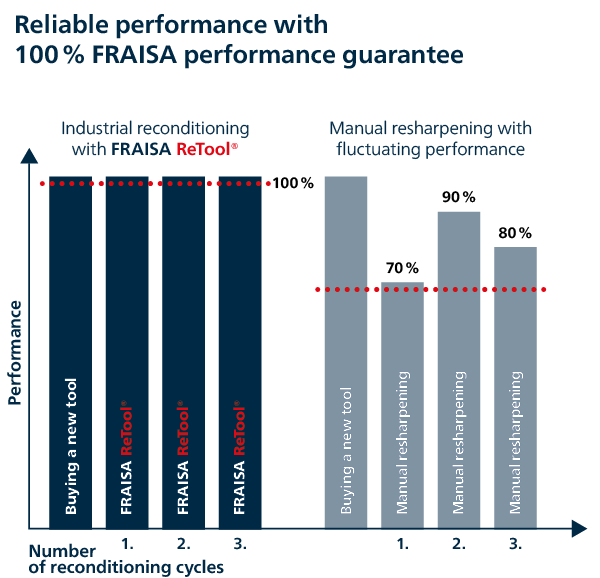 ---
Downloads
---
Do you have questions about our products?
We are happy to help!
Please contact me by e-mail.