FRAISA
E-Cut

– easy to use, highly efficient, and extremely economical
The FRAISA

E-Cut

milling concept combines a very wide range of applications with precisely calculated and verified application data. This makes the tools extremely easy to work with. With just a few clicks, FRAISA ToolExpert delivers perfectly coordinated cutting data. The verified application data guarantee long tool life with high stock removal rates. Simply easy to use!
The versatile tools of the FRAISA E-Cut range can be used to machine various materials without any problems. You can also rely on these robust and easy-cutting tools in autonomous production – they guarantee both smooth running and low power consumption.
FRAISA E-Cut also saves you valuable time when selecting the right cutting parameters. FRAISA ToolExpert E-Cut quickly and easily finds verified cutting data that has been tested in more than 1,000 test cycles.
FRAISA E-Cut is available in three different lengths, with between 3 and 5 teeth, and also as a finishing tool. This provides you with a versatile range of products that can be used for a wide variety of machining operations and offer sustainability and cost-efficiency.
The tools, cutting data, and application range of FRAISA E-Cut are perfectly coordinated. Put your trust in the excellent quality of these new FRAISA tools and benefit from their ease of use, reliable performance, and cost-effective versatility.
The benefits
Excellent cost-performance ratio:
Great performance at an attractive price
Easy to handle, safe and reliable
Flexibility and speed in the production process
Additional benefits through innovative services:
Best possible performance thanks to the FRAISA ToolExpert

E-Cut

cutting data calculator
Service tools available: FRAISA ToolCare® tool management system, FRAISA

ReTool®

tool reconditioning, and FRAISA ReTool

Blue

tool recycling
Diameters between 1 mm and 20 mm
Number of teeth: z3, z4, and z5
Three different lengths: standard, medium-long, and extra-long 5.2xd
Finishing cutters with up to z8
---
FRAISA ToolExpert
E-Cut
FRAISA's cutting data calculator FRAISA ToolExpert E-Cut provides tool- and material-specific cutting data for production – and is the basis for precision use of FRAISA E-Cut tools.
This innovative software solution is very user-friendly: Simply select the material, application, and tool and the software provides you with the right cutting data. FRAISA ToolExpert E-Cut can then transfer the tool geometry data straight to your CAM system.
Fast, safe, and reliable.
---
Innovative technologies

facilitate a variety of milling strategies with a

variety

of materials
As a special feature, FRAISA E-Cut tools have a protective chamfer with a chip former and they also have a small corner radius. This reinforces the cutting edge and enhances performance.
To improve performance, process reliability, and service life, the cutting edges of these high-performance milling cutters are conditioned.
Noteworthy is the chip former at the main cutting edge. This has been designed such that the chips are formed perfectly and the length of time the chip and the tool are in contact with each other is only short. This results in smooth running characteristics and a long service life.
The
technologies

of FRAISA

E-Cut

tools Easy-cutting, productive, and reliable
---
FRAISA performance guarantee through industrial reconditioning
FRAISA ReTool® guarantees 100 % of the machining performance and service life of a new tool. Industrial reconditioning is already being considered during tool development. Our automated production processes ensure maximum performance stability.
Cost savings thanks to FRAISA performance guarantee
Thanks to the FRAISA performance guarantee, you benefit from the reliable 100 % performance of the reconditioned tools. Your machines can produce at an output of 100 % – with new tools as well as after the first, second or third reconditioning.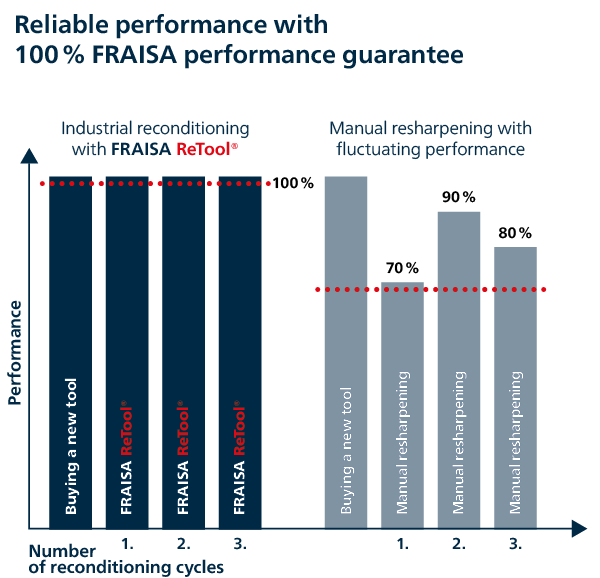 ---
Downloads
---
Do you have questions about our products?
We are happy to help!
Please contact me by e-mail.